Harrison Memorial Hospital Earns Trauma Level IV Center Re-Designation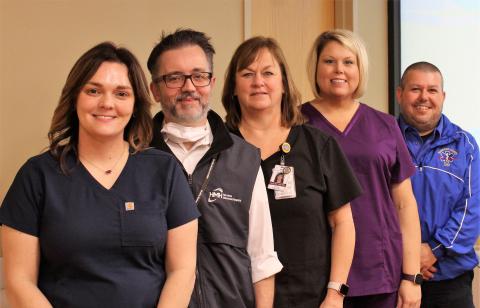 Harrison Memorial Hospital (HMH) announced it is officially re-verified as a Level IV Trauma Center by the Kentucky Trauma System and verified by the Commonwealth of Kentucky Cabinet for Health and Family Services Department of Public Health. The designation was awarded in January.
As a Level IV Trauma Center, HMH has the ability to provide emergency care and stabilization of traumatic injuries while arranging transfer to a higher level of trauma care. The goal is to ensure that the trauma patient is treated within the "golden hour" of injury. Using the standards set forth by the state and having pre-arranged transfer agreements with several Level I Trauma Centers, HMH ensures that the patient receives proper trauma care in a timely manner. 
HMH was awarded Trauma IV Designation in 2015 and 2018. Every three years, HMH completes the application and survey process for re-verification. In 2023, the program was led by April Anderson, HMH Emergency Department Manager. The program includes several physician and management leaders along with local emergency medical services. 
The committee met to complete the requirements and application to submit to the Kentucky Trauma System. HMH submitted a trauma application in 2022, outlining the facility and personnel demographics, as well as statistical data. In addition, educational activities and outreach programs were established to discuss trauma prevention. 
Once the application was submitted, the Kentucky Trauma Advisory Committee conducted a survey on January 12, 2023. The advisory committee consisted of Dr. Brian Harbrecht; Dr. Keith Miller; Kim Denzik, RN, Trauma Program Director at University of Louisville; Richard Bartlett, KY Trauma Program Director/KY Trauma Coordinator. The surveyors did not find one deficiency with the HMH Trauma Program and recommended to the Commissioner of Public Health for verification of Level IV Trauma Center re-designation.  
The Kentucky Trauma Advisory Committee recognized and commented that the commitment from HMH to deliver the best care to all patients is obvious and the importance of the program is evident.
"The trauma re-verification and outstanding survey were house-wide accomplishments that took several months of dedicated and diligent effort by several people at HMH. In particular, special commendation goes to April Anderson, HMH Trauma Coordinator and Dr. Brady Reid, HMH Trauma Medical Director," says Dr. Stephen Toadvine, HMH Chief Executive Officer. "The surveyors applauded HMH for its exceptional dedication to its patients. We are a facility that cares first for the patients we serve, and it is proven with this designation."
The HMH Trauma Committee members are: Dr. Brady Reid, General Surgeon and Trauma Medical Director; April Anderson, Emergency Department Manager and Trauma Coordinator; Dr. Stephen Toadvine, Chief Executive Officer; Kathy Tussey, Chief Nursing Officer and Chief Operating Officer; Dr. Shane Gainey, Emergency Medicine Medical Director; Dr. Charles Allran, General Surgeon; Rees Feeback, CRNA; Jeff Taylor, CRNA; Anastasia Rains, Radiology Manager; Kaitlyn Love, Laboratory Manager; Mary Beth Slade, Respiratory Manager; Shellie Clines, Medical/Surgical/Special Care Unit Manager; Summer Dryden, Surgery and Outpatient Services Manager;; Kelly Grubbs, Cardiac Cath Lab Manager; Shane Bussell, Director of Harrison County EMS and Alison Bussell, Assistant Director of Harrison County EMS; Brian Johnson, Air Methods; Danny Bray, Air Methods; Kevin Callihan, Air Methods Stephen Keath, Air Methods and Ryan Hunter, Air Methods.
Attaining the trauma designation is the latest action taken by HMH to ensure that residents in our service area have access to vital medical services. In 2022, HMH completed the American College of Surgeon Commission on Cancer Accreditation for oncology services. Also, in 2022, HMH was awarded Chest Pain Accreditation with PCI by the American College of Cardiology. 
"I am extremely proud of HMH for accomplishing Level IV Trauma Center Re-Designation," says Dr. Brady Reid, HMH Trauma Services Medical Director. "This further demonstrates the commitment to provide the best quality care to our community."