Dr. Srinadh Annangi joins HMH Medical Staff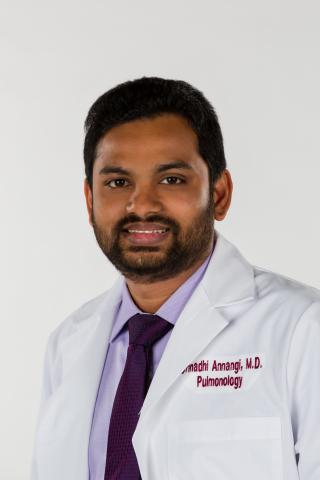 Srinadh Annangi, M.D. joined the Harrison Memorial Hospital Medical Staff. Dr. Annangi is a full-time pulmonologist.
A pulmonologist is a physician who specializes in the diagnosis and treatment of pulmonary (lung) conditions and diseases of the chest, such as pneumonia, asthma, emphysema, complicated chest infections, and other respiratory diseases. Dr. Annangi will see patients in both the outpatient clinic and inpatient setting as well as perform diagnostic procedures at Harrison Memorial Hospital.
Dr. Annangi earned his bachelor of science and bachelor of surgery from Andhra Medical College, NTR University of Health Sciences, Visakhapatnam, AP, India in 2007. He completed an internship at King George Hospital, Visakhapatnam, AP, India as well. Dr. Annangi then completed his residency in internal medicine from Morehouse School of Medicine, Atlanta, Georgia in 2017. In 2020, he completed his fellowship in pulmonary and critical care medicine from University of Kentucky College of Medicine, Lexington, KY.
Dr. Annangi is accepting new patients. His office is located at the HMH Physician Office Building at1210 KY Highway 36 East, Suite G3, in Cynthiana.
To schedule an appointment with Dr. Annangi, please call (859) 298-2690.
For more information on services at Harrison Memorial Hospital, please visit our website at harrisonmemhosp.com.