Dr. Anne Goho joins HMH Active Medical Staff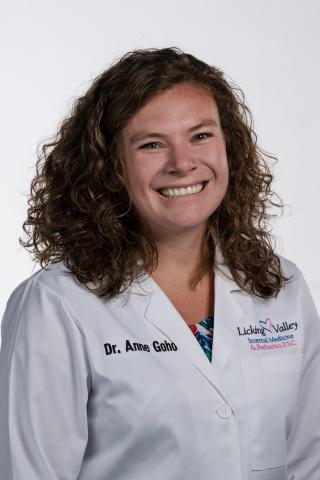 Dr. Anne Goho, pediatrician, joins the Harrison Memorial Hospital Active Medical Staff. Dr. Goho is a full-time pediatrician with Licking Valley Internal Medicine and Pediatrics. The practice includes Stephen Besson, M.D., Joey Calder, M.D., Lindsey Florence, APRN, and Misti Dixon, APRN.
Pediatrics is the specialty of medical science concerned with the physical, mental, and social health of children from birth to young adulthood. Pediatric care encompasses a broad spectrum of health services ranging from preventive health care to the diagnosis and treatment of acute and chronic diseases.
Dr. Goho earned her Bachelor of Science, Biology degree from The College of William and Mary, Williamsburg, Virginia in 2013. She then earned her Doctor of Osteopathic Medicine from West Virginia School of Osteopathic Medicine, Lewisburg, West Virginia in 2017. In 2020, Dr. Goho completed her residency in pediatrics at University of Kentucky Chandler Medical Center, Kentucky Children's Hospital, Lexington, Kentucky.
She is affiliated with the American Academy of Pediatrics. Dr. Goho is certified in Pediatric Advanced Life Support and Neonatal Resuscitation.
She is accepting new patients. Her office is located in the HMH Physician Office Building, Suite 2A, Cynthiana, KY. To schedule an appointment, please call (859) 234-9611.
For more information on services at Harrison Memorial Hospital, please visit our website at harrisonmemhosp.com.