The James A. and Martha R. Brown Charitable Foundation, Inc. fund new HMH KidTown Child Care Center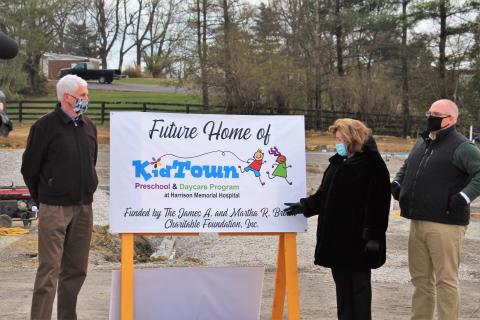 The James A. and Martha R. Brown Charitable Foundation, Inc. and Harrison Memorial Hospital are proud to announce a gift from the Foundation of $1.5 million for the new 10,075 square feet building for the Harrison Memorial Hospital (HMH) KidTown Child Care Center.
Although neither James A. nor Martha R. Brown were natives of Cynthiana, after Mr. Brown's graduation from University of Kentucky and his service in the Air Force as a pilot, they moved here when he obtained a job with the Kawneer Company. However, soon his entrepreneurial skills prevailed, and they both acquired numerous businesses including nursing homes, three banks, shopping centers, several restaurants, multiple retail stores as well as Brown's Ambulance Service with Mr. Brown having been the fourth person in the state to receive an Emergency Medical Technician certificate. In addition, Mr. and Mrs. Brown were an integral part of the community of Harrison Memorial Hospital through Brown's Ambulance service or nursing or personal care homes. Mr. Brown was a member of the Harrison Memorial Hospital Board of Directors for 20 years. During his time on the HMH Board of Directors, Mr. Brown served as chairman from 1997 until 1999 and as finance chair for ten years. Also, he was the chairman of the HMH Capital Campaign in 2005 when we raised $1.4 million for the 2007 new addition at HMH. The Browns considered Cynthiana their home and were forever grateful to it for their successes. With Mrs. Brown having predeceased Mr. Brown and with they not having children, his goal was to repay the community for their many successes. To that end, upon his death in 2017, he devised his Estate to a Trust with its purpose being to fund the soon to be created a James A. and Martha R. Brown Charitable Foundation.
The funds will be used for a new building to assist with additional space needed for the HMH KidTown Child Care Center. The HMH Child Care center began in 1983 and has grown tremendously throughout the years. HMH expanded its child care center in 1996 by completing a new building on campus and named the center Toddler Village. In 2015, HMH opened a before and after school program and expanded to both levels of the current building. In 2016, Toddler Village was renamed HMH KidTown and added a full-time preschool. In January 2020, the child care center was evaluated by the standards set by the Kentucky Cabinet for Health and Family Services Department and earned a four out of five-star rating. Only 27% of the child care centers in the state of Kentucky are rated four or five stars.  Currently, HMH KidTown serves approximately 104 families and has 26 staff members.
"We are extremely thankful to the James A. and Martha R. Brown Charitable Foundation, Inc for the generous donation for the HMH KidTown Child Care Center. Through my tenure at HMH, I can confirm the commitment of Mr. and Mrs. Brown to the community and this facility. The donation will assist this facility in moving forward as we continue to grow," says Sheila Currans, HMH Chief Executive Officer. "With this donation, HMH can meet the needs of its employees and community for generations to come."
Judy Construction, a Cynthiana-based company, is in charge of the building project of the new HMH KidTown Child Care Center. The new facility is slated to be opened by the fall of 2021.