Esther Mwasumbi, APRN, joins HMH Physician Group: Foot and Ankle Surgery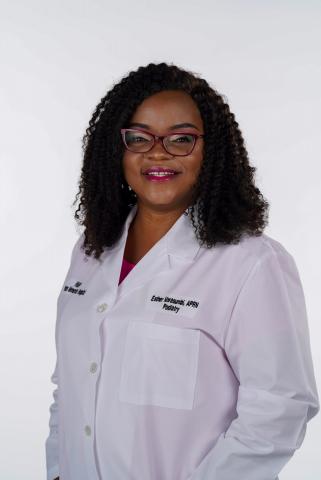 Harrison Memorial Hospital (HMH) is pleased to announce the addition of Esther Mwasumbi, Advanced Practice Registered Nurse (APRN). She is a nurse practitioner, working alongside HMH Foot and Ankle Surgeon, Sofie Pinney, D.P.M. who specializes in foot and ankle disorders. 
Mwasumbi earned her associates degree in nursing from Oakwood University in 2002.She then earned her bachelor of science degree in nursing from Oakwood University in 2007. In 2019, Mwasumbi completed her master's degree in nursing, Family Nurse Practitioner from Walden University. Prior to joining HMH, Mwasumbi worked as a staff nurse at Huntsville Hospital in Alabama and CHI London Hospital in Kentucky. She was also a clinical instructor at Lincoln Memorial University Corbin Campus in Kentucky. 
 
Mwasumbi joins Dr. Pinney, HMH Foot and Ankle Surgeon, to expand services by providing a foot and ankle nurse practitioner at HMH on a full-time basis. Dr. Pinney graduated from the University of Central Florida in Orlando, Florida in 2006. In 2012, she graduated from Barry University School of Podiatric Medicine & Surgery in Miami Shores, Florida. She then completed her foot and ankle surgical residency at Emory DeKalb Medical Center in Decatur, GA in 2015. In 2016, she completed her Fellowship in Trauma and Reconstructive foot and ankle surgery at Northside Hospital/Glenlake Medical Center in Atlanta, Georgia. Dr. Pinney joined the HMH staff in 2017. 
Dr. Pinney is a triple-boarded foot and ankle surgeon at HMH. The services and procedures offered by Dr. Pinney are including but not limited to: Achilles rupture/tears, ankle and foot fractures and trauma, tendonitis, adult-acquired flatfoot (adolescent flatfoot), ankle arthroscopy, arthritis, bunions, claw toe/hammertoes, diabetic foot, hallux rigidus (stiff big toe), heel pain, ingrown toenails, limb salvage procedures-Charcot foot/ankle, neuroma, plantar fasciitis (bone spurs), posterior tibial tendon dysfunction, reconstructive procedures, revisional procedures/surgery, rheumatoid arthritis, tarsal coalitions, tendon and ligament repair, wounds, ulcers and foot/ankle fusions procedures and total ankle replacement. 
For the foot and ankle clinic, Mwasumbi will play a critical role in expanding services of foot and ankle surgery and podiatry. Mwasumbi will specialize in general podiatry and routine foot care as well as diabetic foot care. She will work in conjunction with Dr. Pinney conducting new patient and follow-up office visits for our patients. 
To schedule an appointment for the foot and ankle clinic, please call (859) 235-3562.
For information about HMH's services, please visit our website at www.harrisonmemhosp.com.