Marshall joins HMH Primary Care Carlisle Practice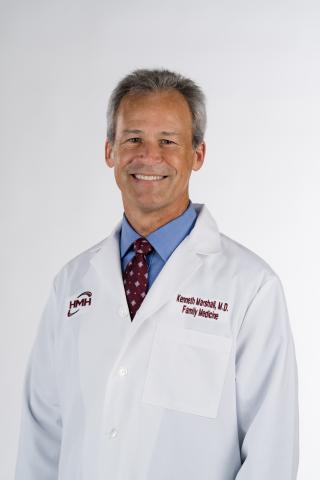 Harrison Memorial Hospital is pleased to announce the addition of primary care physician, Ken Marshall, M.D. Dr. Marshall will join the practice of HMH Primary Care Carlisle.
Dr. Marshall earned his medical degree from University of Kentucky, Lexington, KY in 1986. He then completed his residency in family medicine at the University of Alabama-Birmingham, Birmingham, AL in 1989. Dr. Marshall also completed a Master of Business Administration degree from University of Kentucky in 1999. Dr. Marshall is a board-certified family medicine physician.
Prior to joining HMH, Dr. Marshall was a family medicine physician with Norton Medical Group in Shelbyville, KY and at Indiana University Health in Bloomington, IN.
A primary care medical practice is the first place a patient will contact when he or she requires healthcare. A primary care provider offers patient services, such as health maintenance, disease diagnosis and disease prevention, as well as overall health and preventive information advice. 
The clinic will be open Monday through Friday from 8:00 a.m. to 4:30 p.m. All Medicaid plans and most Medicare plans are welcome. Appointments are available and walk-ins are welcome. 
Dr. Marshall is accepting new patients. His office is located at 254 East Main Street in Carlisle. For a scheduled appointment, please call (859) 289-6311.