Leigh Ann King, APRN, joins HMH ENT Services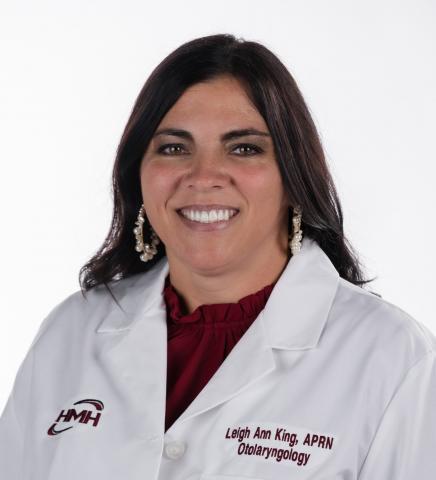 Harrison Memorial Hospital is pleased to announce Nurse Practitioner Leigh Ann King, APRN, will work alongside Dr. Alberto Laureano, Dr. Kenneth Hughes and Dr. David Alexander to expand ear, nose and throat services at the ENT Clinic at HMH in Cynthiana.
An APRN is a registered nurse who has completed an advanced, graduate-level education program and has passed a national certification examination in order to practice in one of four APRN roles (clinical nurse specialist, nurse midwife, nurse practitioner and registered nurse anesthetist). 
A native of Cynthiana, KY, King earned her associates degree in nursing from Midway College, Midway, KY. She then earned her bachelor's degree in nursing from Chamberlain University. King went on to earn her master's degree in nursing, Family Nurse Practitioner, from Northern Kentucky University, Highland Heights, KY.
King has worked as a registered nurse for Harrison Memorial Hospital since 2002. For the past 13 years, King has worked as a Registered Nurse Coordinator of the ENT Clinic at HMH.
As a nurse practitioner, King will be available to the patients at the HMH ENT Clinic Monday through Wednesday of each week. She sees both adult and pediatric patients.
She will begin seeing new patients on May 30, 2023. Her office is located in the HMH Specialty Clinic. To schedule an appointment with Leigh Ann King, APRN, please call (859) 235-3562.
For more information about HMH services, please visit our website at www.harrisonmemhosp.com.