Jo Ellen Jackson, APRN, joins HMH Primary Care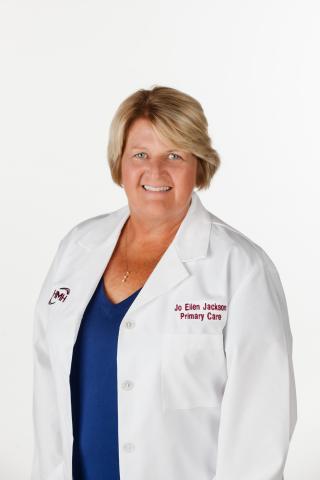 Harrison Memorial Hospital is pleased to announce the addition of Family Nurse Practitioner Jo Ellen Jackson, MSN, APRN, FNP-C, to the HMH Primary Care Pleasant Street office in Cynthiana. Jackson will practice alongside Shane Gainey, M.D., Steven Neus, M.D., Dixie Stone, PA-C, and Daniel Klaber, APRN.
An APRN is a registered nurse who has completed an advanced, graduate-level education program and has passed a national certification examination in order to practice in one of four APRN roles (clinical nurse specialist, nurse midwife, nurse practitioner and registered nurse anesthetist).
A native of Carlisle, KY, Jackson earned her Associate degree in Nursing from Morehead State University, Morehead, KY. She then earned both her Bachelor of Science degree in Nursing, as well as her Master of Science degree in Nursing, Family Nurse Practitioner from Kentucky Christian University, Grayson, KY.
Prior to joining HMH Primary Care, Jackson worked as a nurse practitioner for Heart Smart, cardiology practice, in Maysville, KY. She also worked as a registered nurse at Meadowview Regional Medical Center in Maysville.
As a Primary Care Nurse Practitioner, Jackson has advanced training to help diagnose and treat a wide variety of conditions, as well as promote general wellness in patients of all ages, from newborns to seniors.
Jackson is accepting new patients at the HMH Primary Care office located at 439 East Pleasant Street, Cynthiana, KY. Office hours are Monday through Friday from 8:30 a.m. to 5:00 p.m. All Medicaid plans and most Medicare plans are welcome. To schedule an appointment with her, please call (859) 234-4494.