HMH Sleep Disorder Lab achieves Accreditation with ACHC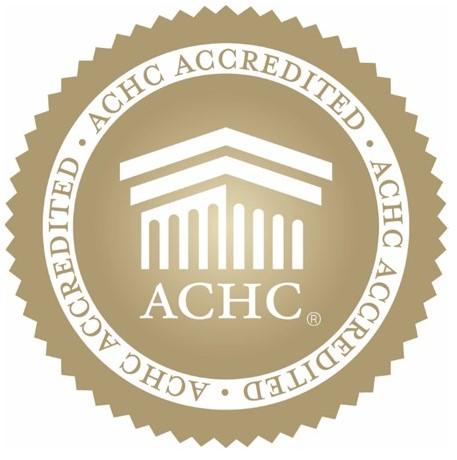 Harrison Memorial Hospital (HMH) proudly announces its approval of accreditation status by Accreditation Commission for Health Care (ACHC) for the services of the HMH Sleep Disorder Lab. ACHC's Sleep Accreditation program offers standards for Sleep Labs/Centers (SLCs) and stand-alone Home Sleep Testing (HST) services. ACHC is a not-for-profit organization that has stood as a symbol of quality and excellence since 1986.
Achieving accreditation is a process where healthcare organizations demonstrate compliance with national standards. Accreditation by ACHC reflects an organization's dedication and commitment to meeting standards that facilitate a higher level of performance and patient care.
"The recent successful ACHC reaccreditation of our sleep lab demonstrates our ongoing commitment to providing quality patient care in all aspects of our service lines," says Kathy Tussey, HMH Chief Operating Officer and Chief Nursing Officer. "Mary Beth Slade, HMH Respiratory Therapy Manager, was the leader in the success of obtaining the reaccreditation. The survey results showed no deficiencies. Our patients, community, and providers can be confident that the sleep health needs are being met by a facility and staff with a nationally, certified staff, board-certified sleep disorder specialist and now with achievement of the accreditation."
ACHC offers a patient-focused approach to Sleep Accreditation with principles that were developed with direct input from industry professionals to ensure relevant and realistic standards. The accreditation process involved a site visit from an ACHC representative who reviewed policies, procedures, credentials, and a sleep study conducted at the HMH Sleep Disorder Lab.
The HMH Sleep Disorder Lab was established in 2005. Sleep studies conducted at HMH are conducted by highly trained sleep technologists while patients enjoy the comfort of private sleep rooms. The HMH Sleep Lab location is behind the emergency department entrance. In addition to testing completed in the HMH Sleep Disorder Lab, HMH offers home-study sleep disorder testing.
Currently, Dr. Maria Pavez, HMH neurologist that specializes in sleep disorders and the medical director of the HMH Sleep Disorder Clinic, supervises and interprets sleep disorder studies.
Dr. Pavez graduated from medical school from Cayetano Heredia University in Lima, Peru. She completed her internship in internal medicine; residency in neurology and fellowship in electromyography at the University of Kentucky. Dr. Pavez is board-certified in neurology and sleep medicine.
"Sleep disorders affect one out of four individuals," says Dr. Pavez, HMH Sleep Disorder Specialist. "Left untreated, many serious conditions, such as sleep apnea, may have life threatening consequences due to the toll taken on the cardiovascular and neurological systems."                     
HMH treats and conducts sleep studies for common sleep disorders like sleep apnea, restless legs syndrome; insomnia; periodic limb movement disorder; narcolepsy and sleep-wake disorder. Research indicates that approximately 4-6% of the population suffers from sleep apnea, the most prevalent of all sleep disorders. 
At HMH, the sleep study would be performed during normal sleep hours. The lab is located in a quiet, comfortable room free of distraction. Set-up involves the placement of various electrodes on the surface of the patient's scalp, face, chest, and lower leg to monitor brain waves, eye movements, breathing patterns, heart rate and muscle activity.  Home Sleep Studies, (HAST's) are also part of the scope of our Sleep Center for screening of sleep disorders. HSAT's are convenient and cost effective for patients that would rather have the test at home as long as there are no major medical conditions or risk factors such as recent stroke, heart attack, seizures or if the patient is oxygen dependent. 
All of the information from the study is evaluated by a sleep disorder specialist. The physician will be able to diagnose a disorder and recommend treatment.
Most medical insurance covers the diagnosis and treatment of most sleep disorders. Please contact your medical insurance to learn more about coverage.                    
For more information on sleep disorders or to schedule an appointment with HMH Sleep Disorder Specialist, please call 859.235.3629.