Harrison Memorial Hospital Receives First Doses of COVID-19 Vaccine for Staff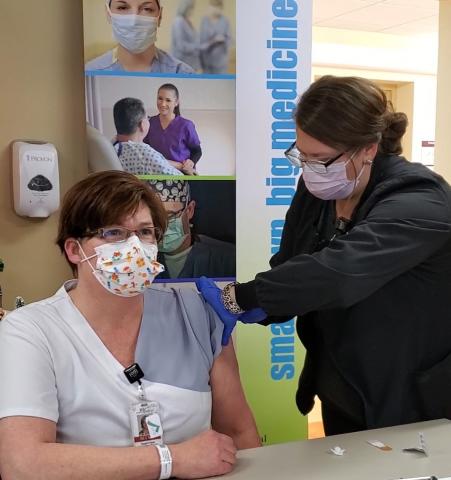 On December 22, 2020, Harrison Memorial Hospital received the first doses of COVID-19 vaccine for its healthcare staff. HMH received a total of 200 doses of the Moderna vaccine to be administered to those staff identified as high priority. The first HMH employee to receive the COVID-19 vaccine was Beckie Hinkson, HMH Respiratory Therapist. At this time, HMH does not have any vaccine designated for the patients or public.
The Moderna vaccine was approved for emergency use by the U.S. Food and Drug Administration on December 18, 2020. HMH leadership began the planning phases for distributing and administering of a vaccine in November 2020. Employees were prioritized based on their level of interaction with COVID-19 patients or suspected COVID-19 patients. The vaccine will be voluntary, but strongly encouraged for HMH employees.
"After being Ground Zero for the first COVID-19 case in Kentucky, HMH is delighted with the news that this vaccine is now available to our frontline healthcare employees," said Sheila Currans, HMH Chief Executive Officer. "The first doses will be offered to those individuals who work directly with COVID-19 patients or suspected COVID-19 patients. Even though an end to the pandemic is still in the distant future, administering this vaccine will be another step in the positive direction."