Taylor and Kincade earn HACP certification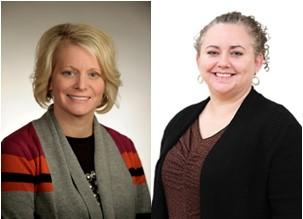 Traci Taylor, HMH Chief Nursing Officer and Ashley Kincade, HMH Infection Prevention and Control Manager earned certification as Healthcare Accreditation Certified Professionals (HACP-CMS) from the Center for Improvement in Healthcare Quality. 
The HACP-CMS certification encompasses a broad knowledge of the CMS Conditions of Participation for acute care hospitals, and the federal survey and certification process. Individuals who achieve this certification demonstrate mastery of subject matter addressing a wide variety of standards by CMS and all of the major accreditation providers. In addition, the individual is an expert as it relates to regulatory compliance and the accreditation/certification arena.
The certification involves completing an application and taking a HACP exam. The exam is developed by experts in the field of hospital accreditation and regulatory compliance and was rigorously peer reviewed and field tested.  
"Traci and Ashley earning this certification adds significant expertise for HMH in keeping current with all hospital regulations and standards," says Dr. Stephen Toadvine, HMH Chief Executive Officer. "I applaud their efforts to continue to grow both personally and professionally." 
Taylor became Chief Nursing Officer in November 2014. She began her career at HMH in 1996 as a surgical nurse. She became the HMH surgical services manager in May 2005 and then, in March 2007, became manager of the both the outpatient and surgical services department. 
A native of Paris, Kentucky, she graduated from Bourbon County High School. Then earned her associates of nursing degree from Midway College in 1996. She completed her bachelor of science degree in nursing from Indiana Wesleyan in 2013  and is currently pursuing her Masters in Nursing from Walden University.    
Kincade is the HMH Infection Prevention and Control Manager. She joined HMH as the infection preventionist in 2019 and was named manager of the department in 2021. She earned the Certified in Infection Control (CIC®) credential, which demonstrates a mastery of infection prevention and control knowledge in 2021.  
Kincade is a native of Paris, KY, graduating from Bourbon County High School in 2002. She earned her associates in nursing degree from Maysville Community and Technical College at the Licking Valley Campus in 2017.